For your sake – and for the sake of the environment
At Scanlux Packaging, we take the environment into consideration in a range of areas and consider it an integrated part of everything we do. Therefore, we always have a solution that benefits both you and the environment. We have replaced all electronic equipment with efficient, energy-saving machines and fully optimised our product flow. And we have invested in new, eco-friendly cars and drawn up a plan for our handling of raw materials, paper, and waste. We take responsibility for the environment – and so do you if you choose an eco-friendly solution.
FSC®, ISO14001, Blue Angel and TÜV AUSTRIA are some of the certifications that guarantee that the climate and environment are considered when you use us as your packaging partner.
Green projects
More sustainable packaging solutions
Help us make a difference
The environment and sustainability are important to a lot of our customers. That's why they choose to have their packaging and products made of FSC®-certified paper and their products printed with watercolours. When you do business with us, you'll help us make a difference for the environment. All FSC® product groups are available in: FSC 100%, FSC Mix and FSC Recycled: Paper bags, gift boxes, gift papers, silk paper, corrugated cardboard, receipt rolls, and paper cups. Hangers are only available in FSC 100%.
READ MORE ABOUT THE FSC® LABELS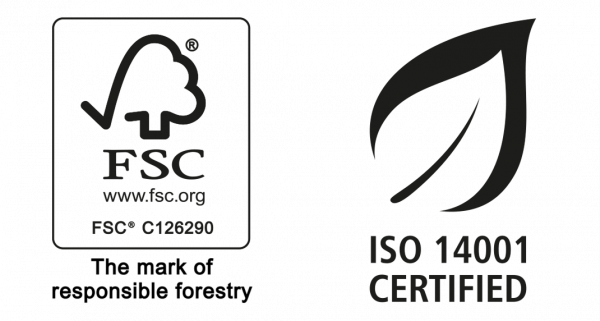 FSC® – the strongest trademark in forestry
When you choose an FSC®-certified packaging solution, Scanlux Packaging can add the FSC® label to your products. It is the strongest trademark within sustainable forestry, among other things because it is used worldwide. FSC® is your guarantee of sustainable forestry. In FSC®-certified forests vulnerable areas are protected, and new trees are planted when existing trees are cut down. This acts as a counterbalance towards deforestation. At the same time, FSC® works to ensure fair conditions throughout the supply chain – from the moment the saw blade cuts the tree to the day the paper reaches the shop.
The local communities receive a fair share of the profits, and the foresters get decent wages, have access to safety equipment and work under a contract. Well-reputed organisations such as the WWF and the Danish Society for Nature Conservation support the FSC® policy to promote responsible human management of nature.
Facts about FSC®
FSC® stands for Forest Stewardship Council®. It is a global, non-profit certification system for producing sustainable timber and paper. Companies and consumers who choose FSC®-certified packaging help to:
Safeguard nature in the forests.
Give foresters proper working conditions: wages, education and safety equipment.
Ensure that the packaging does not originate from illegal logging.
Ensure new trees are planted when existing trees are cut down.
View FSC® certicate
Causes close to our hearts:

Environmental awareness
Through the international standard for environmental management ISO 14001 Scanlux Packaging is able to ensure not only that we produce environmentally responsible products, but also that the environment has been taken into consideration throughout the working process – from the moment someone got the idea for a product to the day the end product reaches your hands. ISO 14001 is your guarantee that Scanlux Packaging does more than develop and invest in green machinery. We have a clear environmental policy, ensuring that our staff considers and implements eco-friendly working procedures. ISO 14001 is the main standard for environmental management, and it makes high demands on companies to implement eco-friendly everyday working and production processes.
Scanlux Packaging is subject to ongoing controls, where independent parties determine whether Scanlux Packaging meets the ISO 14001 demands for environmental management, and whether our staff abides by them in practice.
Facts about ISO 14001
International adherence to environmental management standards created by the International Organization for Standardization (ISO).
Through environmental management the company must actively minimise any environmental impact of the company's processes, products and services.
Ensures that the company meets both legal requirements and own standards for environmental management.
ISO 14001 certificate
We also offer our customers these certifications
Blue Angel – Government-controlled German Accuracy
Blue Angel (also called Blauer Engel) is a German environmental label for those who want to be sure that their packaging materials live up to the standards set by the label.
The ecolabel, an initiative by the German Ministry for the Environment, has, with its high standards, protected both humans and the environment for more than 40 years. The Blue Angel label can be attached to a long range of products, but there are a wide range of criteria to meet in order to be awarded the label. These criteria vary depending on which product group the product falls under.
For example, in order for a plastic bag made of recycled plastic to obtain the Blue Angel certificate, it has to live up to a large number of requirements, including how much of the total plastic is recycled plastic.
The people behind the Blue Angel label also keep a close eye on the technological advances that can improve the manufacturing processes. This means that packaging manufacturers will continually have to improve the way they manufacture packaging if they intend to keep the label.
TÜV AUSTRIA – To ensure biodegradable plastic
TÜV AUSTRIA (formerly Vinçotte) is for those who want to use 100% biodegradable plastic. TÜV AUSTRIA awards several different certifications for compostable and biodegradable products, depending on the material in question.
The certification scheme is approved by European Bioplastics. TÜV AUSTRIA can award the Seedling logo for products that comply with EN 13432. Because bioplastics can be awarded both the OK-compost and the Seedling logo, as a certificate holder, you have the opportunity to give your compostable products a certification that applies throughout the European market.
We are obsessed with new innovative materials
The use of home shopping has increased dramatically, and
packaging is more than ever a key factor when customers
choose where to shop. We love new innovative materials that
meet the demand of conscious consumers. Like Paptic - a
sustainable material that has the qualities of plastic
READ ABOUT PAPTIC
Dive into our world
Design is key
Let us invite you into a world of
bold colours and patterns,
magnificent materials, innovative
designs and sustainable solutions.
VISIT CREATIVE LAB