E-COMMERCE & STORE PACKAGING
We Love to Bring Ideas to Life
Is your packaging performing? Or do you want to take your packaging strategy to the next level? We can help you. Let's discuss how we can work together on a project. Packaging should be easy for you and your customers.
Packaging design, production, and branding under the same roof
We are experts in packaging design, from idea to finished product. Packaging must be easy for our customers. That is why we take care of the whole process, also for production and logistics. Our specialists have many years of experience developing innovative solutions for your company's values and brand that clarify them in packaging – whether it is in retail stores or webshops!
The world's climate challenges are on our minds, and we want to contribute to a more sustainable world. That is why we are environmentally certified with the recognized FSC® and ISO 14001 certificates, and your guarantee for more environmentally friendly solutions. Look for our FSC® certified products in the webshop, or ask us for more information on FSC® for your unique print.
Shop-the-look: Find packaging that matches the season and your brand
Click on the dots to take advantage of our brand new collection.
Get free delivery for orders over 300€ when you order from our webshop! We ship within 24 hours on business days.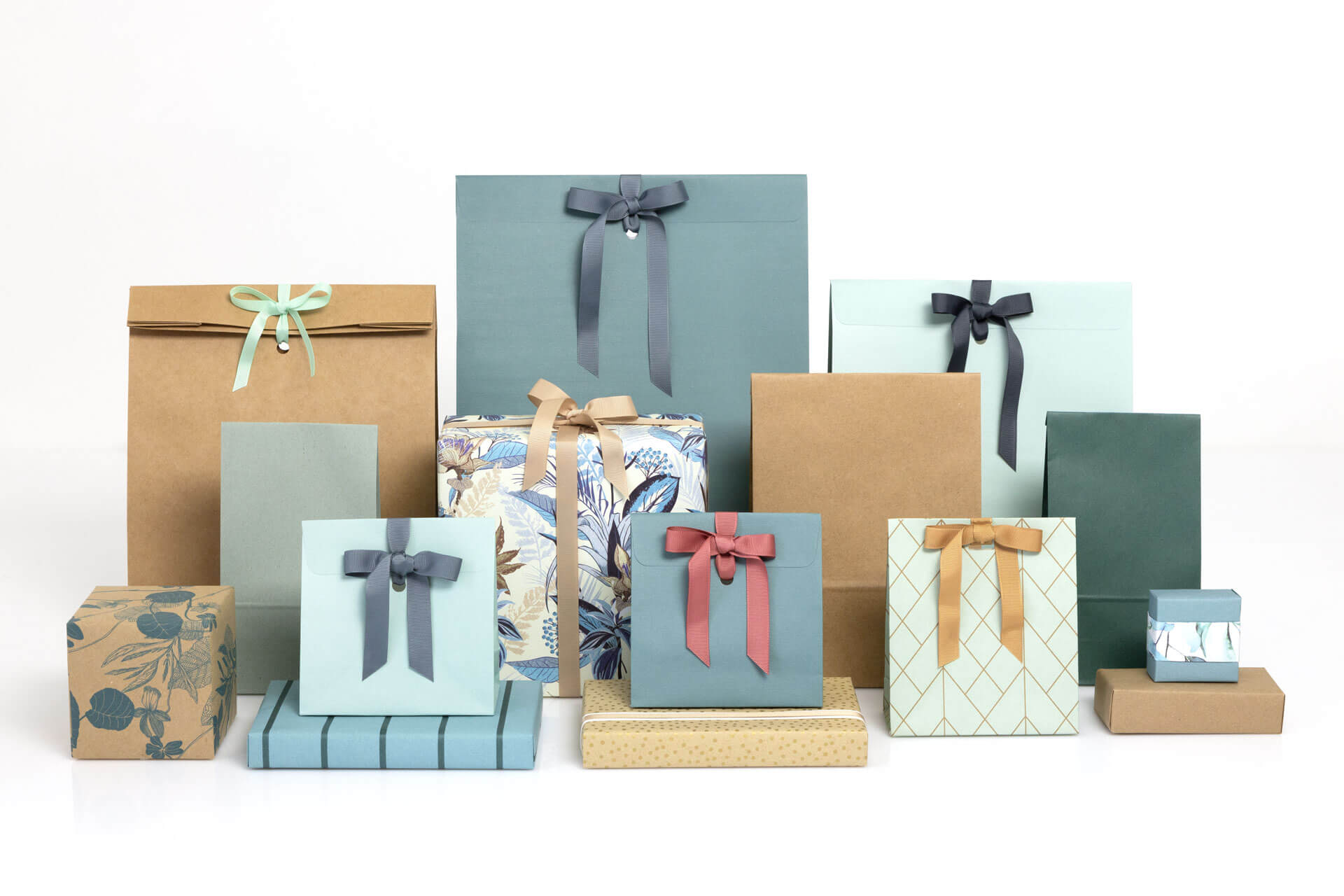 Gift bag Dust green, matt with tape closure and hole for ribbon. REMEMBER TO ORDER RIBBON. FSC®
Gift bag Dust green, matt with tape closure and hole for ribbon. REMEMBER TO ORDER RIBBON. FSC®
Simple and stylish gift bag in a classic dust green colour with a gold pattern. With its tape closure and hole for gift ribbons, it is perfect for quick and easy gift packaging. Elegant and timeless design Give your customers a little extra luxury at home with this beautiful gift bag. The beautiful and stylish look is suitable for all ages, and will be popular for any occasion. This lovely gift bag can quickly turn your products into perfectly wrapped gifts. The bag is not season-specific, which allows you to use it all year round in the store.. We can recommend a 16 mm ribbed grossgrain gift
Gift bag Craft paper, w. turnover top and hole for ribbon. FSC®. REMEMBER RIBBON
Gift bag Craft paper, w. turnover top and hole for ribbon. FSC®. REMEMBER RIBBON
Our gift paper "Blue Botanic" shows a nice colour palette in shades of chic brown and petrol blue on a creamy yellow background. Exclusive and spectacular. The vibrant design and the beautiful colour shades make the gift wrap usable all year round. The leaves motif will, among other things, be ideal for birthday, anniversary and hostess gifts. You can advantageously combine the paper with the matline or silk ribbon series in delicate earth and blue colours for an extra elegant look.
Exotic gift wrap that reminds us of 1920's wallpaper, where nature was in focus. The pattern is printed in dark green shades on a background of brown kraft paper. This eco-friendly and nature-inspired design is both charming and different. It is well suited for interior design, outdoors brands, women's and men's fashion and more. An original gift wrap that can be used for both large and small parcels. Make the gift packaging high-end with ribbons from our grosgrain-silk series in green or brown and golden colours or add some fun and flair with poly ribbon in matching contrasting
Gift bag paper, dark green petroleum
Gift bag paper, dark green petroleum
Gift bag paper, dust green
Gift bag paper, dust green
Gold dots dancing on a kraft paper background. A gorgeous and different gift wrap, elegant and upmarket in an edgy manner. Dots are always a hit, and this paper is festive all year round, making it an obvious choice for stores that don't want seasonal gift wrap. Accentuate the upmarket look by using shiny, silk gift ribbons in golden or light colours. Or go for raw elegance by using jute, ribbed grosgrain or matline ribbon.
This eco-friendly gift wrap has a green-blue background decorated with elegant metallic stripes that make the wrapping paper simple and harmonious. An elegant and timeless design for shops that sell classic items, which is suitable to use all year round. With its simple look, it's easy to match with gift ribbons in many different colours and designs. Gold and silver gift ribbons for festive parcels, or silk ribbons in pastel colours for a more subtle and elegant gift.
IN URGENT NEED OF PACKAGING?
We ship the same business day before 14:00 (GMT +2)
Are you in need of cardboard boxes, bags, boxes, gift wrapping, or packaging for shipment? Get the packaging in our webshop, and we will ship the goods within 24 hours. Buy packaging and wrapping from our webshop and get free delivery for orders over 300€.
A selection of our customers
Want our help?
We will help create unique packaging that suits your brand.
We design and make packaging with your own unique print and logo.
Have a chat with one of our packaging specialists today.
Welcome to Scanlux Packaging
We create packaging solutions for stores and webshops based on Scandinavian design traditions. Quality is our top priority, and you should expect the best from your suppliers. Our designers are proud creators of a modern and timeless packaging universe and work hard to meet these expectations for innovative and sustainable packaging solutions. Sustainability, quality, and simplicity have been vital to us since the beginning. For more than 30 years, Scanlux Packaging has supplied stores and webshops with packaging. Our designs bring the best of Scandinavia to life. In our webshop, you will find a wide range of boxes, bags, wrapping, and e-commerce packaging that creates a complete packaging solution. Order from our webshop today or request a customized solution with our packaging specialists.
Packaging is a part of your brand
Packaging is a natural part of a company's marketing and branding. Based on your vision and our expertise, we create designs that support your functionality and unique branding needs. We are constantly working to develop better packaging that best represents a brand's values. Our packaging specialists will assist you in all stages of the process, from generating creative ideas to sustainable production. Then your packaging is ready to be sent out into the world to your shops and your customers.
Count on us with storage and logistics
Distribution can be a significant challenge. Therefore, Scanlux can help larger retail chains counting many stores, with flexible logistics solutions. We offer large retail chains and webshops our facilities and expertise within storage and distribution. The packaging will be kept safely in our storage facility and ship them directly to your online and physical shops. This makes it easier for you to minimize storage costs and save administrative resources. By leaving the responsibility of logistics to Scanlux Packaging, it is possible to centralize specific tasks. It also allows us to leverage our local expertise with demand-controlled deliveries. Tailored to each shop's needs, you experience a reduction in storage, distribution, and administration costs. Our consultants are always ready to help you. Ask for a quote or call us today.