If you notice the FSC®-label on the recently bought paper bag, you can be certain that the wood used in the production is sourced from forests with sustainable forestry and decent working conditions throughout the supply chain.
Perhaps you are wondering, why labels under the FSC®-logo says different things depending on the bag, gift box, or paper cup. The reason for this is due to several FSC®-labels that protect the environment and the forests in each their way as best possible.
Her følger forklaringerne på tre af de vigtigste mærker, der kan hjælpe dig med at tage mere miljøvenlige beslutninger, når du køber emballage.
Following, is an explanation of three of the most important labels that can guide you to a more eco-friendly solution when you purchase packaging.
FSC® Recycled
To obtain the FSC® Recycled label, a product needs to be made from recycled materials.
FSC® makes further distinctions between the types of recycled materials used, called post-consumer and pre-consumer.
Post-consumer is paper and wood materials that is collected after the consumer has used the products they have purchased.
Pre-consumer is materials that can be gathered before the consumer buys the final product. That can be sawdust, damaged wood or leftover pieces of wood from the production.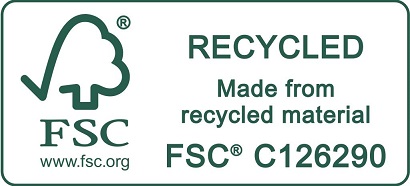 For wood products, a minimum of 70% sourced from post-consumer materials is a requirement. There is not the same requirement for paper products but all products naturally need to come from either pre- or post-consumer recycling controlled by FSC.
Recycling paper and wood products ensures a longer lifecycle for the wood, as well as minimising the amount of product excess going to waste.
FSC® 100 %
The label tells us that FSC® 100% can be found on all the products with wooden parts that is exclusively sourced from FSC®-certified forests.
For example, the cardboard in a gift box with a window, consists exclusively from wood sourced from FSC®-certified forests, but the window, made from plastic, is not, and is therefore not a part of these materials.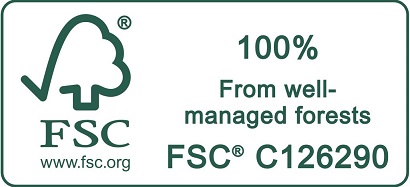 The number, 100, is a reassurance that all paper and wood materials in the product comes from FSC®-certified forests.
FSC® MIX
The label stating FSC® MIX, indicatesthat the product contains one or more of the following three materials: wood from FSC®-certified woods, Controlled Wood, and recycled materials.
To be more precise, a minimum of 70% of the product's wooden materials must come from either FSC®-certified forests, post-consumer recycled materials, or a combination of the two.
The remaining 30% must come from either Controlled Wood, pre-consumer recycled materials, or a combination of the two.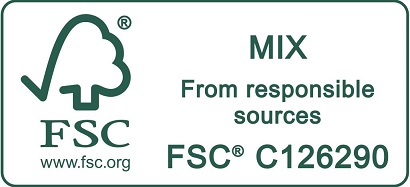 Controlled Wood is wood that comes from forests that assessed from the following criteria:
Low risk of illegal forestry.
Low risk of breach of civil rights.
Low risk of the original conservation values superseded by new management activities.
Low risk of harvesting in areas cleared in favour of plantations or other areas that do not contain forest.
Low risk of harvesting in areas with gene modified trees.
The last two types of labels (FSC® 100% and FSC® Mix) are also available in "Small and community producers"-variants, which means that a forest is either managed by its original people, characterized as a smaller forest area, or has a very low harvest rate.
The Best FSC®-labels
Naturally, you can make use of all three labels at Scanlux when choosing your company's packaging. The labels all do something positive for the environment. However, if we should emphasize some, the FSC® 100% and FSC® Recycled stands out as the labels with most eco-friendly qualities.
It is not enough, to merely harvest the wood, under strict control of the forests, in appropriate places in the world. It is also important to recycle as much of the wooden material as possible.