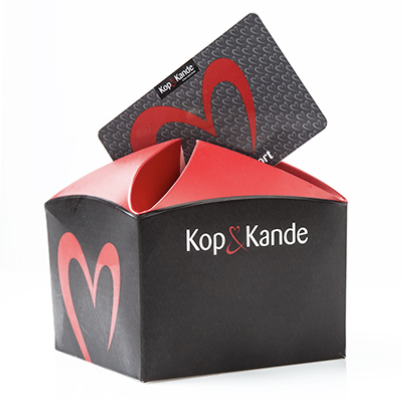 Participate in the process
Contribute from idea to finished product
Plastic cards are an obvious opportunity to market your business. It is important that the plastic cards reflect your business and support your brand, so our designers and consultants are working closely with you to create a unique plastic card that puts a distinctive impression. We help you all the way from idea to finished product, and based on your wishes and visions we create a card that meets all your requirements.
Strengthen the interaction with your customers
There are many types of electronic cards: gift vouchers, club cards, key cards and staff cards – just to mention a few. Common to all of them is that they will eventually find their way into the hands of your customers. What message do you want to send? Let our designers in BRANDLAB help you design a card that meets your needs. We'll take care of everything – from idea to production. None of our cards contain toxic PVC – you can even choose a card made of bioplastic or other eco-friendly materials.
Personalised plastic cards
Safe identification and validation
We can produce gift cards, key cards, membership cards and club cards with barcode, magnetic stripe and chip. There is also the ability to encode the barcode, magnetic stripe and chip with all the information you desire. We can also produce plastic cards with unique numbers (such as card numbers and consecutive member numbers) and unique names as needed.
Love for pure materials
All our cards are produced without the use of toxic PVC or similar materials. We can manufacture in bioplastics as well as other eco-friendly materials if your company wants a more green and sustainable profile.
Plastic cards that reflect your brand
We can produce cards in the all colours and patterns that reflect your business and brand. You choose the expression of the cards, but our advisers and consultants are of course available if you need help or advice. We can also produce transparent plastic cards and plastic cards with varying thicknesses.