PLASTIC BAGS
SHOW US YOUR CARRIER BAG, AND WE WILL TELL YOU WHO YOU ARE
Your carrier bags say more about your company than you may think. A cheap solution says cheap products, whereas a slightly more expensive carrier bag radiates quality. The trick is finding a carrier bags with the right capacity, shape and size, and which supports your image. Scanlux offers a wide selection of plastic bags: bags with glued patch reinforcement, bags with loop handles, block-headed bags and T-shirt bags.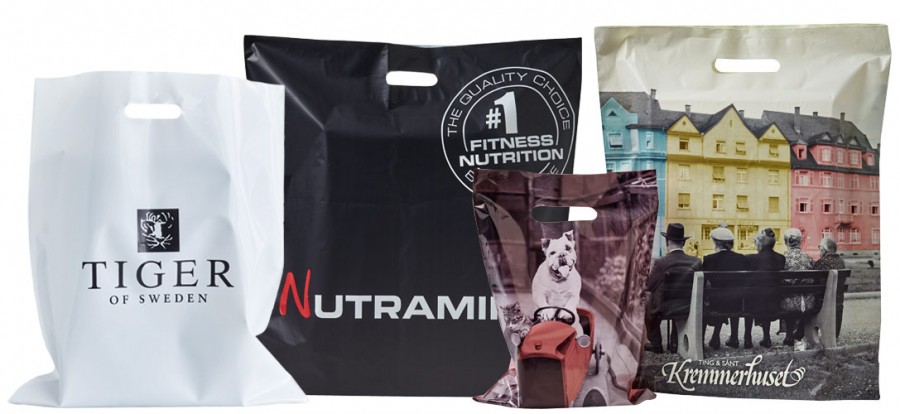 PLASTIC BAGS WITH GLUED PATCH REINFORCEMENT
STRONG PLASTIC BAGS FOR HEAVY LIFTING
With our plastic bags with glued patch reinforcement on the inside you get a durable carrier bag that can handle heavy lifting day after day. The bag comes in a range of foil types and in all imaginable colours and printing – depending on the intended use and impression you wish to make.

LOOP HANDLE
THE SIMPLE AND SMART SOLUTION
Loop handles are an easy and simple way to ensure your plastic bags stand out. Add e.g. a stylish photo print, metal or several layers of foil. This allows us to use different materials both on the inside and on the outside.
BLOCK-HEADED BAGS
THE PRACTICAL AND ECONOMICAL SOLUTION
Block-headed bags are an economical and highly practical solution. They are mounted on a block, making it easy for the shop assistant or customer to tear off a bag. Block-headed bags come in a range of materials and with your desired print.
BASIC
Basic is SCANLUX's standard range. A wide selection of packaging with next-day delivery that can be purchased in our webshop.
WE DESIGN FOR YOU
Our expert designers are ready to help and guide you to the perfect design solution – Bringing Brands to Life.
PRICE
Contact us and receive a quote for your own completely unique packaging with your own logo – simply and quickly.